E-petitions
Make suggestions visible, while increasing internal efficiency, ensuring that users get answers and ensuring that suggestions really lead to improvements.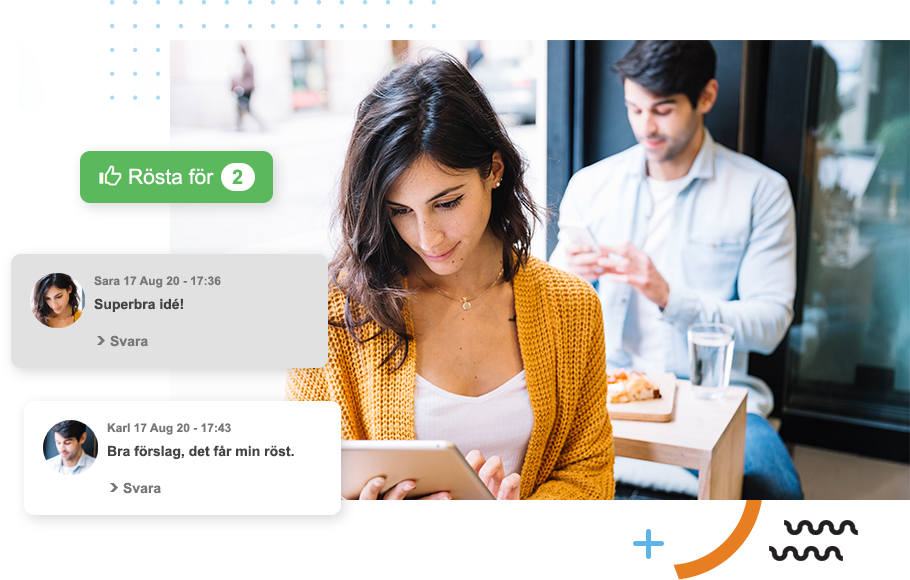 Key features
Available for everyone, anytime, everywhere
With the built-in e-service for e-petitions and with support for apps, e-mail, SMS and social media, everyone can submit suggestions at any time, no matter where they are, by mobile, tablet or computer.
Increased transparency and improved dialogue
The petitions are published in a user-friendly interface where users can read, share, vote, comment, subscribe to comments and follow the petition throughout the decision-making process.
Nothing falls through the cracks
The automated workflow ensures that the petitions are forwarded to the right people and keeps track of nothing being forgotten, that decisions are made in time and that the user receives feedback.
Modern and user-friendly
The interface is modern and responsive and uses the devices' built-in functions to mark on a map and attach pictures, movies and voicemails.
Moderate and review
To create an inviting climate that follows policies and laws, all suggestions and comments can go to a moderator for review and editing before being published or rejected.
Democratic decision-making
Certain rules for whether a petition should be handled further or not, based on e.g. number of likes, votes or comments, prevents arbitrary decisions on whether a petition is good or bad.
Automatic basis for decisions
Upon further processing, all information about the petition is automatically compiled, with comments, votes and shares, to provide a complete basis for decisions.
Promise answers
The automated workflow ensures that things are done on time and that feedback on what has been done can be sent to the user throughout the decision-making process.
Protect user privacy
Features for privacy, deleting and digital signing protect personal information and restrict who can leave, read, share, vote and comment on petitions.
Do you want to know more about e-petitions?
Lina Obitz
+46 660-29 95 13
lina.obitz[a]flexite.com